Mrs Salome Namrata Simeon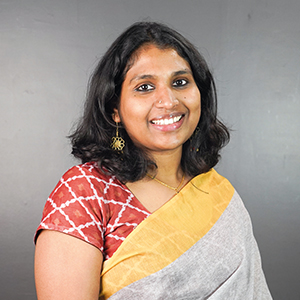 Mrs Salome Namrata Simeon, an alumnus of SAIACS (MA, Theological Studies), serves as Faculty in Training in the Department of Practical Theology and Counselling, while she pursues her PhD in Psychology from Christ University. She joined SAIACS as a teaching trainee in 2015. Before joining SAIACS, she was involved in counselling. Her doctoral research aims to explore the experiences and the social relationships of first-time mothers who are transitioning to motherhood. Following this study and research, she hopes to be able to focus her counselling work in the area of perinatal care. She is passionate about caring for women as they journey into motherhood.
Areas of Focus:
Psychology
Counselling young adults, women, and families
Research in Social Sciences
Motherhood Studies
Education:
PhD Candidate, Christ (Deemed to be) University, Bangalore
MPhil in Psychology, Christ (Deemed to be) University, Bangalore
MSc in Counselling Psychology, University of Madras, Institute of Distance Education, Chennai
MA in Theological Studies, SAIACS
BSc in Psychology, University of Madras, Women's Christian College, Chennai
Her hobbies include working on small creative projects, road trips with the family, exploring the beauty of the natural world through travel, watching nature and ecology documentaries, and baking with her pre-schooler. Salome is married to Philip Yalla, also a graduate of SAIACS (MTh, Old Testament). Together they have 2 sons, Elijah and Ezrah.