Mrs Karishma Paul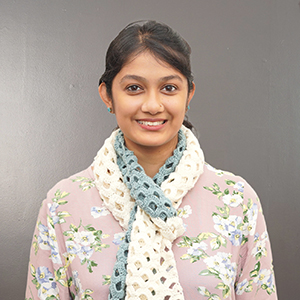 Mrs Karishma Paul, a SAIACS alumnus (MDiv and MTh, New Testament), serves as Faculty in Training in the Department of Biblical Studies (New Testament), while pursuing her PhD studies on the Historical Jesus from an Asian perspective.
Before joining SAIACS, she worked in the rural belt of Koraput district with Asha Kiran Society for three years. Alongside teaching at the school, Karishma received training in editing theological works with Langham Publishing.
Her area of research for her MTh thesis was on the Historical Jesus in the Gospel of Mark through the method of Memory Studies and Traditio-historical perspective. Currently, she is engaged in teaching Introductory and Intermediate Greek.
Areas of Focus
Historical Jesus
Synoptic gospels, particularly Gospel of Mark
Memory Studies
Asian hermeneutics of the gospels
Education
PhD Candidate, SAIACS
MTh (New Testament), SAIACS
MDiv, SAIACS
Bachelor of Arts in English Literature, Psychology and Journalism at St. Joseph's College for Women, Vizag
Karishma is married to Samuel Johnson, who works as a Product Consultant in an IT firm. Together they enjoy watching stand-up comedy and spending time with family. They are blessed with a baby boy, Samarth Samuel.