Dr Havilah Dharamraj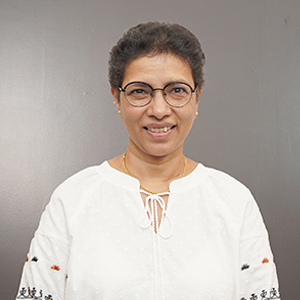 Dr Havilah Dharamraj, an alumnus of SAIACS (MA, Christian Studies), is Head of the Department of Biblical Studies. She previously served as Head of the Department of Old Testament (2008-20), and then as Academic Dean (2012-20). Two of her research interests are Intertextuality and Comparative Literature, which several of her students have used with skill in their MTh and PhD dissertations. Her interest in Biblical narrative has led her to invest in narrative preaching and storytelling workshops, both undertaken with the intent to re-introduce into Christian ministry the Indian cultural heritage of stories as a didactic oral medium.
Books Written/Papers Published:
Her recent publications include A Prophet Like Elijah?: A Narrative-Theological Reading of the Elijah Cycle. Paternoster Biblical Monographs Series. UK: Paternoster, 2011; South Asia Bible Commentary (editor and contributor). Grand Rapids, Mich: Zondervan, 2015; Altogether Lovely: A Thematic Intertextual Reading of the Song of Songs. Minneapolis, Minn: Fortress Press, 2017, and Ruth. Asia Bible Commentary Series. Langham Global Library, 2019. Her ongoing writing projects include South Asia Study Bible (editor and contributor) and Contribution to Five Views on Jesus in the Old Testament. Counterpoints series, Zondervan.
Areas of Focus:
Education:
PhD in Old Testament, University of Durham, UK

MSc in Biochemistry, University of Bangalore

MA in Christian Studies (SAIACS)
Besides writing for both academia and the Indian church, she enjoys her dogs and garden. Havilah is married to Pandu Dharamraj, and they have two married children and a grandson.