Dr David Muthukumar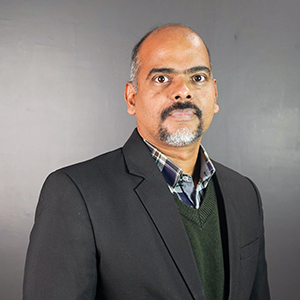 Dr David Muthukumar serves as Head of Department of Theology and History. Before joining SAIACS in 2021, he served as faculty in the department of Theology at Union Biblical Seminary, Pune, for eight years.
Books Written/Papers Published:
"Conceptualization And Analysis Of Systemic Corruption Through Augustinian Doctrine Of Original Sin." UBS Journal. Pune, 2014; "Joy to the World": Understanding the Event of "God Becoming Human" through a Gadamerian Hermeneutic. Evangelical Review of Theology and Politics. vol. 6, 2018, 87-102; "Apokatastasis as "Twin Mission": Understanding the Concurrence of the Universality and Particularity of the Logos and Ruach in the Economy of Salvation." Journal of the International Association for Mission Studies (BRILL), vol. 36, iss. 3, 2019, 484–506; "Embodied and Socially Embedded "Self": Understanding Jesus' Bodily Resurrection and Believers' Post Mortem Identity and Continuity." Science and Christian Belief, vol. 31(2), 2019: 111-129; "History as Revelation and Divine Discourse in History: A Postfoundationalist Anchoring of Scriptural Authority." Evangelical Review of Theology and Politics. vol. 7, 2019: A1-21; "Norming the Norm of Relationality: A Theological and Interreligious Exploration of the Trinitarian Doctrine." Jurnal Jaffray. Vol. 18(1), April 2020: 36-58; "Toward A 'Conditional Universalism': Appraising Jürgen Moltmann's Universalism in light of Sin and Repentance." in Evangelical Quarterly (BRILL) 92, 2021: 1–17; "Comparative Reading as an Interfaith Dialogue: Reincarnation in Bhagavad Gita and Resurrection in Thomistic Theology." in Asia Journal of Theology. vol. 35(2) , October, 2020: 60-78.
Areas of Focus:
Evangelical Theology
Christology
Interfaith Dialogue
Comparative Christology
Postfoundatoinalist Epistemology
Education:
PhD in Systematic Theology, Fuller Theological Seminary, USA

MTh, Senate of Serampore College

Bachelor of Divinity, Senate of Serampore College

BSc Computer Science, Bharathiar University, TN
David and his wife, Catherine, have two children, Nehem and Tim.